The next Luke 10 school in Vista, California, will start March 21, 2022, and end on May 11, 2022.
This is a 7-week school that is life-transforming. Yes, for many, it ends up becoming more than just those seven weeks, as they either join our team here or continue out on the mission field. Be ready to be trained, equipped, and sent out! We are excited to start our first school in California, and we look forward to reaching México at the same time!
¡Nueva Escuela Lucas 10 en México!
Haz clic aquí para saber más sobre la Escuela Lucas 10 en México.
New Virtual Luke 10 School!
You can now join us from your home too.
Click here to learn more about this Virtual Luke 10 School!
Scroll down for more details!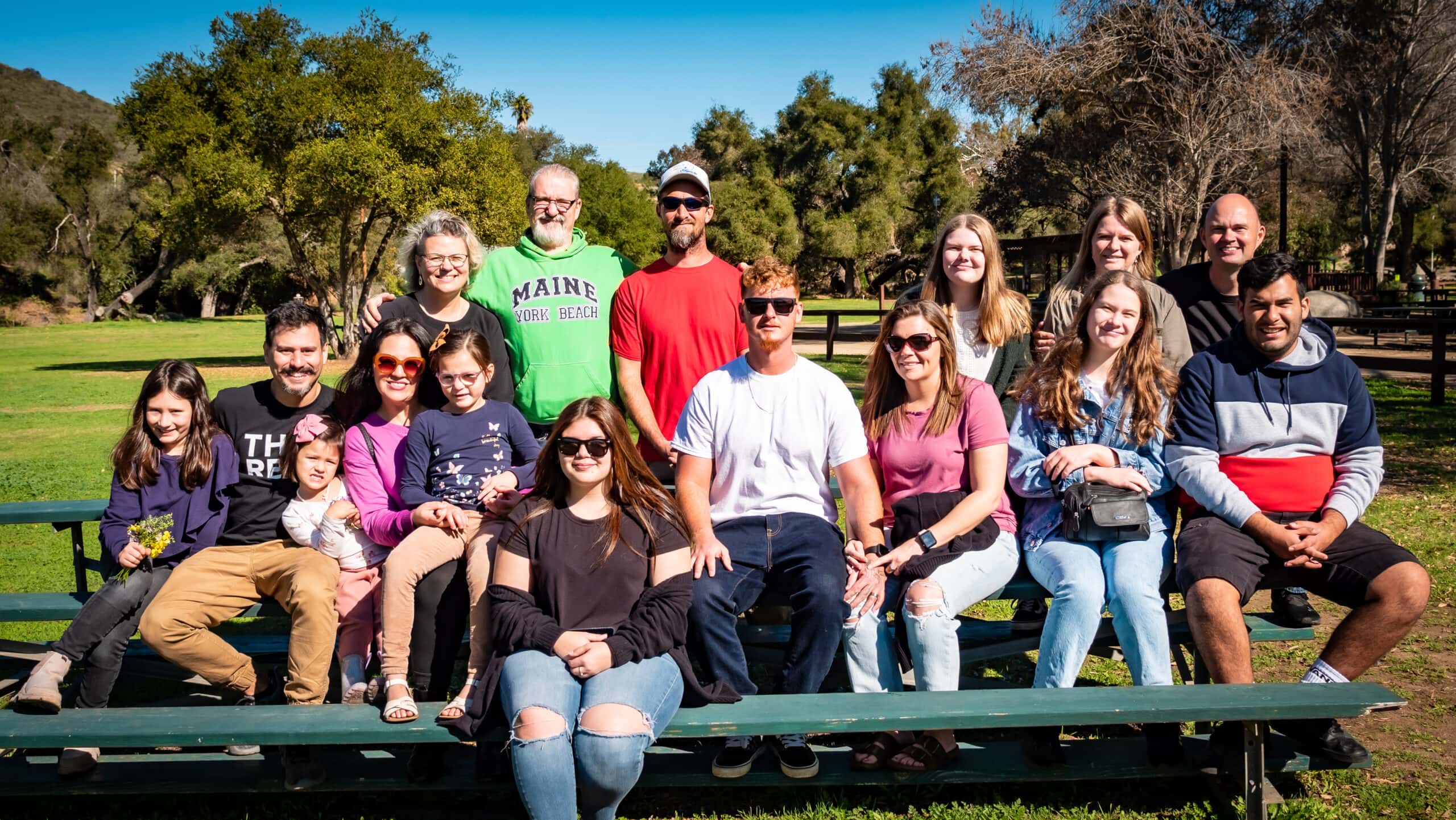 Some of the Leaders of the Luke 10 School California and México along with their families.
at this moment there are no scheduled luke 10 schools.
Are you ready to be sent? We are so excited to start our first Luke 10 School in the San Diego area of California! As always, this is going to be an amazing school but this time we are going to put even more focus on sending people out. We want to train you and equip you like we always do, but this time, more than ever before, we want to send people out! Send people out to reach the community in California! Send people over the border to reach people in México and Latin America!
This school will also have a focus on the people in México as we are doing a bilingual school this time. One school, two locations. While we are having our school here in California where teachings will be in English with simultaneous Spanish translation, people will be sitting in Rosarito, BC, just over the border in México, receiving the very same teachings at their Luke 10 School. During this 7-week Luke 10 School, there will be opportunities again and again to be sent with teams on the weekends to go to México and meet the Spanish speaking team and do outreach there. So, remember your passport! If you don't have a passport, cannot or prefer not to travel to México, that is not a hindrance for you to join this school, as there will also be outreach in America.
This Luke 10 will be a 7-week school. The first weeks we are laying a foundation and getting to know each other. During the school, there will, as we said, also be different opportunities to join outreach trips and Kickstarts in California and México. We will also focus on starting up new fellowships in the local cities and helping other churches and house fellowships. In this way, we can work to see the Kingdom grow while getting good training by experiencing the real life, so you can then go help others and continue doing the same.
A typical day will include practical work, prayer time, teaching, small groups, and outreach to the nearby cities. There will be time to "hang out as a family" and share life together in the evening.
Tuition:
Detailed tuition costs will be emailed to you once your application has been received. Below are preliminary costs for those who are on campus with no special accommodations. 
$1800.00 single adults, 18 and older
$3400.00 for married couples
$1000.00 ages 8-17
$600.00 ages 5-7
Free for ages 4 & under
*Please note that there may be additional expenses to you for things such as gas to and from the outreach and Kickstart events in and outside of California, especially for those joining the outreach trips to Rosarito, México.
About accommodation.
The school will be held at the Green Oak Ranch in Vista, California, where we will have our camp. Please keep in mind, this is a camp. It is not a 5-star hotel. During the school there will be times that people will need to be moved around on the weekends as other people come in to use the camp. It is all good character training and good to die to yourself. Something that is very important, and we talk a lot about in the school. We just want to make that clear that this is a campground, but it is a very beautiful place with a lot of facilities, including hiking, a swimming pool, disc golf, basketball courts, a playground and even animals like donkeys, goats and pigs. This camp is centrally located in Vista and there are plenty of shops nearby as well. We want to make this a beautiful time for you and your family!
Sleeping accommodations are dorm-style bunks where single men and single women will be staying in separate dorms with multiple people per dorm. There will be rooms available for couples and families as well. There are times during the school that some people may need to be moved around as the camp has other renters coming in, so you should be prepared for any changes to sleeping arrangements needed for the school's duration. There may be options at times for some people to live in apartments or Airbnb's outside of the camp where they can come to the camp for the daily teachings during the week and any events that get planned. Once again, this is not a 5-star hotel, but a discipleship training school for the whole family where we are focused on simple living.
Meals are provided.
For those of you living in the area near Vista or anyone that wishes to make their own accommodations nearby and still attend the school, we are now offering that option as well. You will need to apply as a student and will be expected to attend all classes, meetings, prayer times, events and you are welcomed to join us for meals as if living on campus, however, you may live off-campus and drive in each day to be present and participate in the school.
We have a very limited number of RV spots with 20amp and water only. Please let us know in advance if you would like to bring your RV for the school. At times RVs may need to be moved to boondocking during the duration of the school due to other renters using the facilities.
If you are hungry to grow as a disciple and want to join us for our first Luke 10 School here in Southern California, you can apply now and begin to make preparations! Keep an eye on your email for correspondence regarding the status of your application.
Our camp will be located at:
Green Oak Ranch
1237 Green Oak Road
Vista, CA 92081
www.greenoakranch.com
If you have any questions, please let us know. We are very excited to see you all! Come and let's follow Jesus together.