finding the person
of peace
The Call of Jesus shows how the words of Jesus still have the power to transform the world and set people free. Unfortunately, the problem we have seen over the last 2000 years is that religion and the traditions of men have been slowly pulling people far away from the simple truth and original Call of Jesus.
The Call of Jesus, by Torben Søndergaard, is a forceful reminder of the simple yet powerful and transforming Call that Jesus gave to all. Through Jesus' words in Luke chapter 10, Torben brings clarity and revelation to what it actually is that Jesus called us to. He shows in a simple way how we can obey Jesus' call, and experience the same fruit the church saw in the time of the early disciples.
The harvest is ready but the workers are few. This Call, if you choose to obey it, will transform not only your life but also the lives of those around you! Jesus is calling you! Will you accept His Call?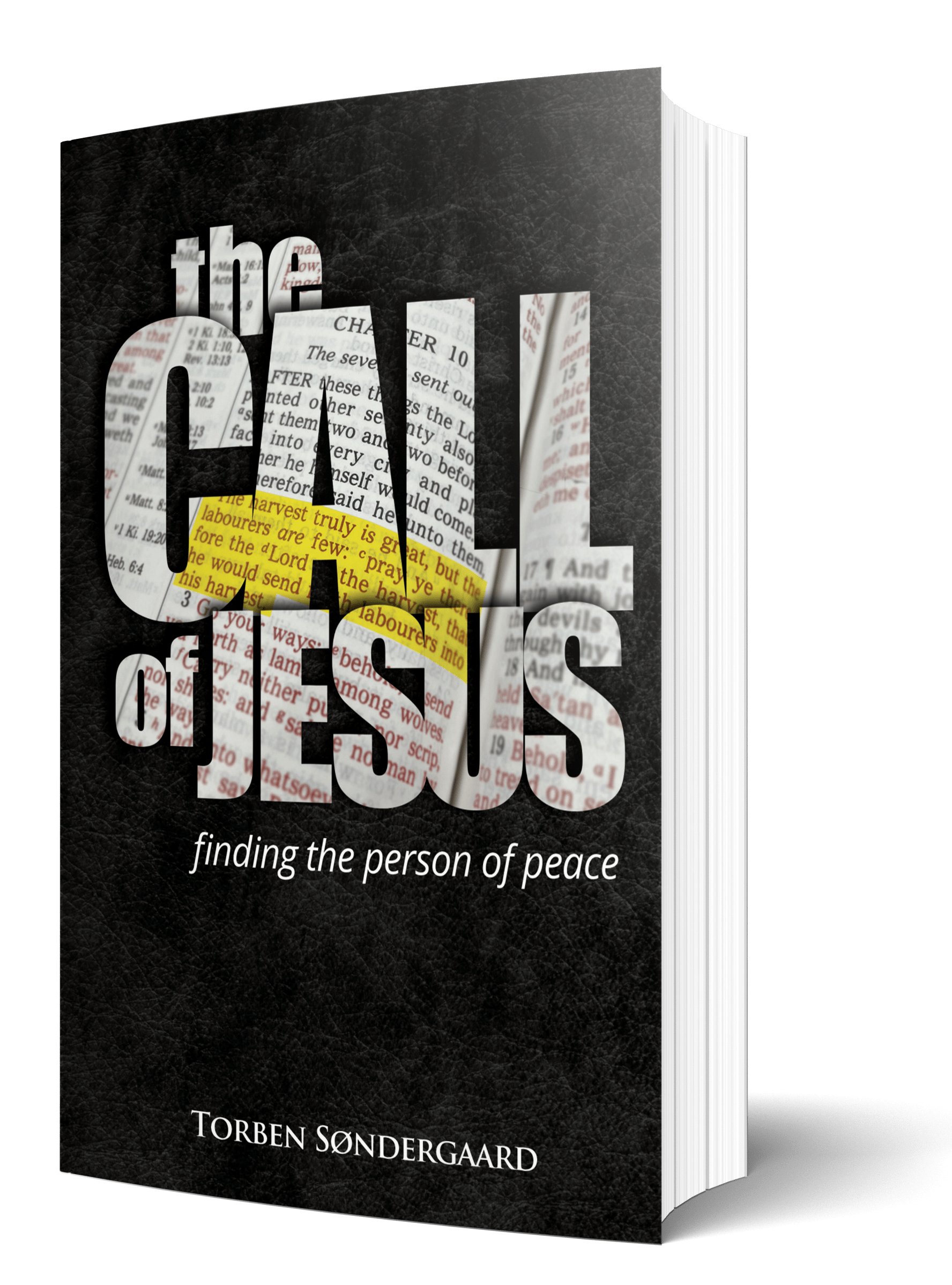 This is what happens when you start obeying the call of Jesus.
the call of jesus
chapter by chapter
Together with my new book, I have done a whole new video series. One video for every chapter in the book. I hope you're ready for this.
My New Book "The Call Of Jesus" Is Now Out 😉 - This Call, If You Choose To Obey It...
04:54
INTRO – THE CALL OF JESUS (Intro To The New Video Series In 26 Lessons)
16:01
1 - CHRIST, MISSION, AND THE CHURCH - Not Church, Mission And Christ - Time To Come Back To Jesus
22:46
2 - THE TWELVE AND THE SEVENTY - Our Call Is The Same As It Was Back Then!
17:04
3 - BEING THE GOOD GROUND - Are You Like Matthew, Or The Rich Young Ruler?
17:37
4 - Two By Two - Back To Discipleship And Doing It Two By
16:38
5 - THE LEADING OF THE HOLY SPIRIT - Important for all of us
18:02
6 - THE HARVEST IS PLENTIFUL... And Ripe. -Stop Believing Satan's Lies
21:13
7 - BELIEVE THAT THE HARVEST IS READY And You Will See Great Things
19:24
8 - SEND OUT WORKERS - Let's spread the Luke10:2b virus.
19:44
9 - AS LAMBS AMONG WOLVES - an important lesson for all of us! - overcoming your fear
19:30
10 - CARRY NO MONEY - Learn To Be Dependent On God
16:03
11 - DO NOT GREET ANYONE ON THE ROAD - Don't Get Distracted
16:39
12 - PERSON OF PEACE - A Very Important Truth That Has Been Lost
21:36
13 - EAT AND DRINK WHATEVER THEY PROVIDE - Stop inviting people to church....
18:25
14 - DO NOT MOVE FROM HOUSE TO HOUSE - Let's win homes and entire cities for God
25:20
15 - WIPE OFF THE DUST - Don't Spend Your Time On The Wrong People
19:32
16 - HEAL THE SICK AND PREACH THE GOSPEL - Not Just A Choice But A Command
26:02
17 - THE KINGDOM OF GOD HAS COME NEAR - THE MOST IMPORTANT THING WE NEED TO KNOW
22:37
18/26- THE BOOK OF THE APOSTLES - The Normal Christian Life - Faith Is Obedience
16:03
<\/iframe>"' data-height='450' data-video_index='21'>
19/26 - THE WHOLE STORY - Why It's Important To Talk About Sin
20:16
20/26 - JESUS, OUR SAVIOR - The Good News About Salvation And The Tree Of Life
27:41
21/26 - LUKE 10 TESTIMONIES - Amazing - And For Everyone - Including You.
27:34
22/26 FINDING THE PERSON OF PEACE - Don't Close Your Eyes - Having A Heart For The Lost
25:24
<\/iframe>"' data-height='450' data-video_index='25'>
23/26 WE ALL NEED FAMILY - Don't Give Beef To A Baby....
20:06
24/26 HOW TO GROW UP - They Need Family Not Meetings
18:40
<\/iframe>"' data-height='450' data-video_index='27'>
Dear Pastors And Leaders - Let Us Help You - Let's see an awakening like never before!
23:34
26/26 Let The New Life Begin - An Amazing life
15:33