PTS at our Big Tent Revival Meeting in Chicago
Join our mini-
Pioneer Training School!
We are really excited to hereby invite you to join our mini-Pioneer Training School. We have up till now been running a 3 week PTS all over the world and the results have been amazing. In a Pioneer Training School we look at character and Spirit, we look at what the Gospel is all about with repentance, baptism in water and baptism in the Holy Spirit, we also look identity and who we are in Christ, also how to be led by the Holy Spirit, what it means to believe in Jesus, we also look at fasting and how we obey the call of Jesus that He has given to us. 
In this school we will also have a lot of hands on training. Normally our Pioneer school is 3 weeks long but this one is going to be an even more intense school over 10 days. We will be hosting this school in our Big Tent during the day with Revival meetings in the evenings and it will end with a Kickstart Weekend at the end.
If you want to join this Mobile Pioneer Training School you can sign up here and send us a video telling us a little bit about who you are, your testimony and why you want to join. Our goal is to get a group of people who will join us in the Chicago area starting the morning of Saturday the 25th of July. The training school will be in the mornings and afternoons with some hands-on training. Every evening we will have Gospel Revival meetings with opportunities to put into practice what you are learning – to pray for the sick, lead people in repentance, baptize people and learn about deliverance. At the end of the Pioneer Training school you will be a part of a big Kickstart weekend.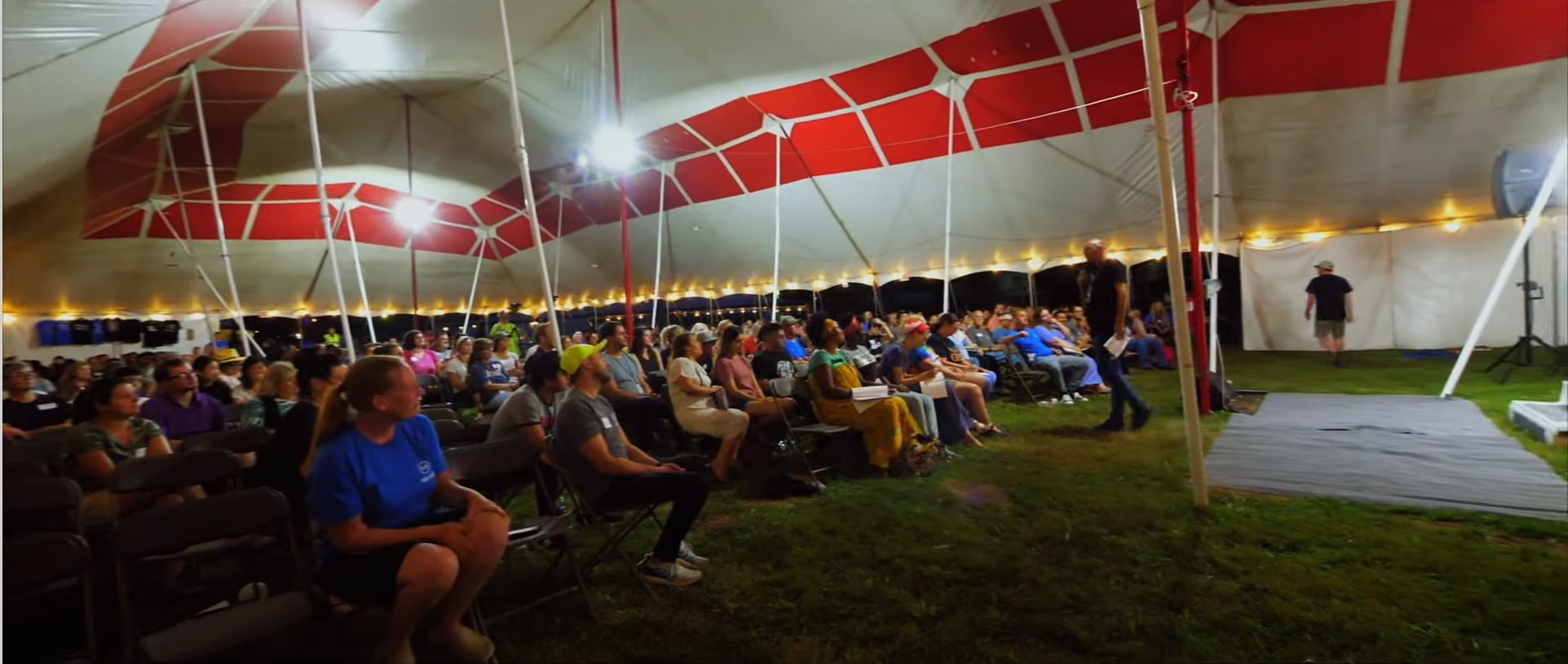 PTS at our big tent revival meeting in chicago
$175 / person
Children are free
School will begin Saturday morning the 25th and end Thursday evening the 30th. The Kickstart will start Friday the 31st and will end Sunday the 2nd of August. The first Revival meeting will be Friday the 24th evening. The daily teachings will be done by Torben Sondergaard and a team of four others. The Revival meetings will also be done by Torben and a couple others.
The daily schedule for the school will be like this:
9:00-9:30am Practical work
9:30-10:00am Prayer
10:15-11:30am First session
11:45-1:00pm Second session
1:00-2:45pm Lunch
3:00-4:30pm Third session
5:00-7:00pm Dinner
7:00-9:30pm Revival meeting
Have you been following what God is doing with the Last Reformation? Have you seen the videos and want to start living the Book of Acts? If so then this is a great opportunity for you. If you are wanting to be more a part of the RV Tent Revival trip then this is a very important step for those who want to work more closely with us.  What we provide is teaching in the mornings and afternoons and be a part of the Revival meetings in the evenings. We will be providing lunches but not breakfasts or dinners as we are on the road and our abilities for big meals is limited at this time.
The cost for the school will be much less than normal ($ 175 / person) since we are not able to provide accommodations on the road so you will need to provide for your own place to sleep. However, if you sign up now, we can possibly put you together with others and you can all rent a local Air BnB house which can be much cheaper or you can bring your camper or motorhome and find a local place nearby. We may have some room for select students near the property the Big Tent will be but there will be no hookups. There is a RV park within an hour that has up to 60 back spots and reasonable rates, it is called Hollywood Casino & Hotel Joliet. The address is 777 Hollywood Blvd, Joliet, IL 60436 and the phone number is (888) 436-7737). You will be able to get a reduced rate if you get the weekly rate. Let them know you are with the Last Reformation Big Tent meeting in Des Plaines.
Some things that will be asked in the application that will be helpful for us to know when selecting students to join us on the road are have you watched the Pioneer Training videos on Youtube, seen any of the movies, have you joined a Kickstart weekend before and were you able to attend our recent Summer Camp here at the Ark? We really look forward to getting to know you more and hope that you join us on this historic RV revival trip.